Human Safety
Administering Exzolt through drinking water minimizes the potential for human workers to be exposed to chemicals. The convenient formulation also requires less labor than spraying. With Exzolt, layer house workers do not have to:
Remove birds and/or eggs
Be exposed to environmental chemicals
Quarantine
Wear extensive safety equipment
Meet application license requirements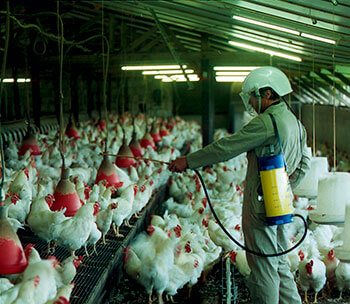 Medical Significance
Mite infestations are considered an occupational disease for poultry workers in some countries.
Human infestations are known as Gamasoidosis
Bites can result in severe itching and mild skin necrosis
Of most concern is the ability of Poultry Red Mite to spread disease
Diagnosis can be difficult and relies on the presence of skin rashes and discussion with patient

Consumer Safety
In addition to worker safety, humans can immediately consume eggs from layers treated with Exzolt after the first Exzolt administration. Use of Exzolt poses absolutely no loss of egg value or income, whether for human consumption or for hatch. The zero-day withdrawal period represents a tremendous advantage for Exzolt compared to alternative treatments.
Multiple radiolabeled metabolism studies and residue depletion studies were conducted to determine the residue profile for Exzolt in edible tissues and eggs. As a result of this extensive body of research, a withdrawal period of 14 days (13 days in some countries–check your local regulations) after last administration of Exzolt was computed for meat and offal, but notably, NO withdrawal period (zero days) is required for eggs.

Biosecurity
Audit Checklist
To avoid the detrimental effects of a red mite infestation, conduct a farm biosecurity audit. The checklist evaluates protocol measures for various situations, including:
Environment
Equipment
Reared hens
Removal of cadavers and
Visitors and personnel control